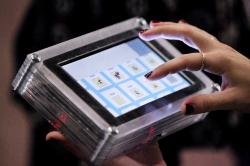 Fall 2017 Capstone project:  VoxBox     
VoxBox is a specialized assistive communication technology designed to help children with communication disorders in their struggle to effectively communicate with other people.  
Fall 2017 Capstone class:  Namita Abraham, Matthew Batko, Alyssa Evangelista, Jaron Ge,  Anthony Lam, Kathy Lei, James Loftus, Caroline Rong, Lauren Richardson, and Cooper Tunnard.  
Recent Capstone Projects
Spring 2017 Capstone project:   
AUXO Garden provides gardeners with a kit that includes a moisture sensor, the companion AUXO app, and a beginner's box that comes with essential gardening tools.
Spring 2016 Capstone project:   
Slingshot is a STEM Education Kit designed to encourage young women to design and build technology-based products (products that contain both computer hardware and software elements).
Fall 2015 Capstone project:   
Class Quest is an interactive classroom environment designed to encourage student interaction and collaboration.