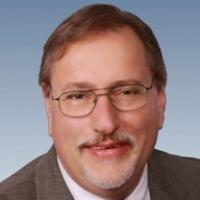 Chief Executive Officer
Duets Microelectronics
John has served as Chief Executive Officer of Duet Microelectronics since its founding in 2016. He brings to Duet Microelectronics over 35 years of semiconductor experience, most recently serving as Executive Vice President and Chief Operations Officer of ANADIGICS. Prior to that role, he served as Executive Vice President of Quality and Design Technology, Senior Vice President - RF Products, and Vice President, Advanced Development at ANADIGICS. John also held leadership positions at Apogee Photonics and ASIP.
John earned a BSc degree from Stevens Institute of Technology in Optical Physics and MSc degree in Communication Theory Electrical Engineering from NJIT. He has been awarded several patents in circuit design and optical processing, and has authored a number of technical publications.
John is a fan of Frank Lloyd Wright and has produced several CNC art projects inspired by his designs.
Showcase(s)
Fall 2018
Fall 2017
Spring 2016